Q: How does LibDib@RNDC TX work?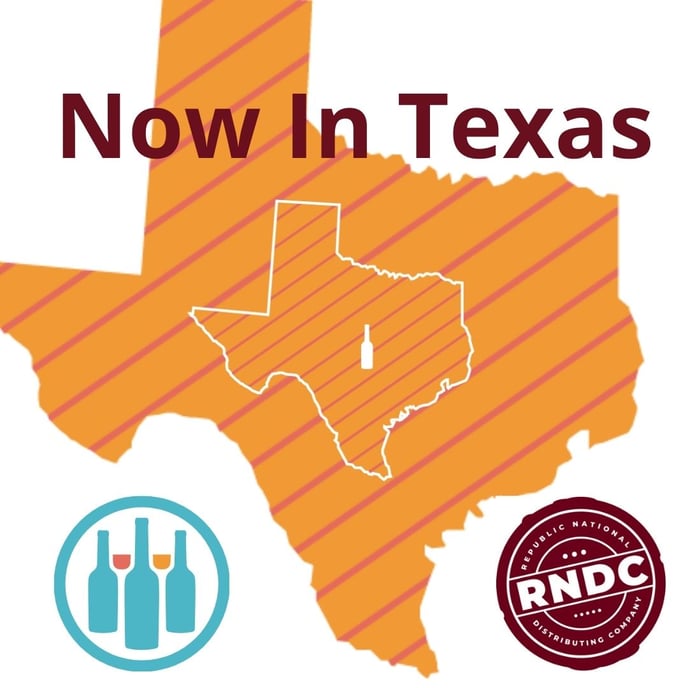 LibDib@RNDC TX is a new RNDC sales division within the state of Texas

LibDib@RNDC TX brings LibDib's unique platform-based distribution model to RNDC Texas

Any compliant spirits Maker/Supplier can secure distribution for products in the state

The idea is that together RNDC and LibDib will provide a stronger distribution option

This is for both established RNDC Spirits Suppliers, as well as new and emerging brands

LibDib@RNDC TX will be open to a select group of LibDib Makers and RNDC Spirits Suppliers

Wine distribution via LibDib@RNDC TX is coming soon
Q: Is LibDib@RNDC TX different from other current markets (CA, FL, IL, WI, CO, NY)?
In other states, LibDib is a licensed wholesaler

LibDib@RNDC TX is a new sales division within RNDC Texas

Both models provide access to the market in a deeper reach for RNDC and Makers/Suppliers

There will be operational differences when it comes to the following:
Zero to minimal inventory, with exceptions under certain circumstances

Delivery, billing, collections, payment, and pricing will be through RNDC in Texas
Our goal remains to provide a path to market for all Makers/Suppliers and products
Q: Where do I sign up?
Express your interest here

LibDib@RNDC TX will open the market out to additional Makers/Suppliers in the near future

Makers/Suppliers who express interest will be notified appropriately

In the meantime, brands can secure distribution in LibDib's other markets
Q: How long does it take to go live in Texas?
For new makers to the state of Texas, state compliance can take up to 75 days

Once compliant, a distribution request takes an additional 30 days for RNDC processing
Q: Am I getting the RNDC sales force? Will RNDC sales reps sell my products?
There will not be an RNDC sales force via the LibDib@RNDC TX model

The best ambassador for any brand is the Maker/Supplier themselves

LibDib's most successful brands have in-market Makers/Suppliers and Brand Ambassadors

In-market Ambassadors/Makers can submit Digital Requests online or via a mobile device

Read this article for more details on how to be successful on LibDib
Q: Who is my distributor in Texas? LibDib or RNDC?
RNDC is the distributor on record and LibDib@RNDC TX is a new division within RNDC Texas
Q: Can I place Digital Requests in Texas via LibDib platform?
Yes, Makers can place Digital Requests in Texas

RNDC will evaluate the request and can process an order if appropriate
Q: What happens after a Digital Request is submitted?
The Digital Request is submitted on LibDib's platform by the Maker/Supplier

Once verified, LibDib will send an email with instructions to the Maker/Supplier
The process includes:
How to download a LibShip label

How to use the LibShip label to route the package to the appropriate RNDC warehouse in Texas

More details on how to access LibShip labels can be found here

After satisfying any regulatory requirements, the cases will be delivered to RNDC

RNDC will invoice and collect from the Customers
Q: Do I have to use LibShip?
Q: Will my products be available on eRNDC?
LibDib@RNDC products are available for Buyers to shop and purchase via a LibDib shopping category on RNDC
Q: Can Texas Customers sign in online to buy?
Texas Customers need to contact the Maker/Supplier then the Maker/Supplier can submit a Digital Request through the LibDib platform
Q: Who can purchase my Spirits products in Texas once I'm live?
All off-premise accounts in the state of Texas are signed up with RNDC

On-premise accounts work with RNDC, but for spirits, all products must be sold through a Class B license per state laws
Q: Will my brand page URL stay the same?
No, Makers will have an RNDC brand page URL for Texas and a LibDib brand page URL

Both links can be found on LibDib
Q: Is RNDC Texas going to hold my inventory?
No, all products will be delivered to RNDC warehouses using Just-In-Time demand via LibShip
Q: What if I have inventory at RNDC in Texas already?
Inventory at RNDC will remain at the warehouses until depleted

It will not be reordered and the Maker/Supplier will move to the Just-In-Time demand via LibShip
Q: What if I need to ship pallets into Texas?
If an order is 10+ cases, Makers/Suppliers are eligible to use LibShip Freight

More information can be found here
Q: Our product has not arrived yet at RNDC in Texas. What should I do?
It is the Maker's responsibility to ensure product arrives at RNDC for delivery to the account

LibDib is able to provide you with a great rate via LibShip; however, Maker's need to check in on their shipments periodically to ensure there is not an issue

If there is breakage or FedEx has lost a shipment, we HIGHLY recommend reshipping the product prior to a claims payment. Keep your Buyer happy with good service.
Q: If I'm currently with RNDC, can I add other SKU's to LibDib that are not with RNDC?
Yes! LibDib's platform is available for all products, no matter what the production size

Products must have a TTB and TABC approved COLA to go live on LibDib

Makers/Suppliers must be licensed to sell in any state in which distribution is requested
Q: I'm currently with RNDC in Texas. Can I have products available at RNDC and LibDib@RNDC TX?
Yes! This works particularly well if a Maker/Supplier has some products with sales volume or chain placements as those would remain within RNDC
Q: If my product sales increase, will they go back into the RNDC Spirits portfolio?
LibDib@RNDC TX acts as an incubator for RNDC Texas, providing all Makers/Suppliers with access to Texas
Q: What is the benefit of the LibDib@RNDC TX model over the traditional RNDC model?
Makers/Suppliers gain access to the market and Maker/Supplier ambassadors maintain control with the Customer
Q: Who should I call if I want more information on LibDib@RNDC TX?
If you are currently an RNDC supplier, you will be contacted if LibDib@RNDC TX is an option for you

If you are a LibDib Maker or interested in new distribution, express your interest here

Makers/Suppliers who express interest will be notified appropriately

In the meantime, brands can secure distribution in LibDib's other markets
Q: How do I navigate Chain Sales within LibDib@eRNDC Texas
Texas has many large chain liquor stores. Fortunately, RNDC has amazing relationships with all of them and we have worked out a program where LibDib Division Makers have the opportunity, just like any other Maker in the market, to work with the chains
FYI: ALL RNDC suppliers, no matter what division they are in, must work with RNDC to support chain sales. LibDib@RNDC is no different.
*If you are new to working with Texas chains and want to offer your products to Buyers, read more here.
Part of the service LibDib@RNDC in Texas provides its Makers is to help with the chains. Putting our best foot forward for these very busy Buyers is very important. We have worked in tandem with all parties to create a Chain Presentation Book (both on and offline) for all LibDib@RNDC products. Once you become part of LibDib@RNDC, Makers need to fill out a document (we will send it to you!) with product details (bottle image, notes, awards, very similar to your LibDib page). The document is added to an ever expanding book which is then sent to the Buyers. If there is interest, a Buyer will reach out for more information, samples and perhaps a meeting.
This is important. PLEASE do not approach these Buyers yourself. While they are excited to have access to unique and small batch products, they have asked us to follow this process for the sake of their time and availability. Following these guidelines ensures that we are offering up our portfolio in the most efficient way possible. BONUS: LibDib Makers in Texas will have visibility to these great accounts as part of being in the program. Win-win.
*If you have existing chain sales in Texas and are moving into the LibDib@RNDC division, read here.
LibDib@RNDC receives chain orders daily and will process as needed. We will place an order with you once an order comes in. There is no need for a Digital Request for the chains. When they get low on their inventory, they will place an order. We will order from the Maker and deliver to the appropriate location once the product arrives. If you have an existing chain placement, please ship your order as soon as possible. We do not want to keep these very important Buyers waiting too long for product! BONUS: RNDC merchandises LibDib@RNDC products as needed by Buyer account. Another win-win!