LibShip is our flat rate shipping program that saves you time and money. We work with FedEx to bring you simplified pricing, automated tracking, enhanced features, and an overall easier experience from start to finish. We call it discounted shipping delivered to your inbox.
Makers report an average savings of almost 50% compared to standard FedEx pricing. Rates are based on distance traveled and the weight of the package. The ASR (Adult Signature Required) sticker is included.
Current rates:
| | | |
| --- | --- | --- |
| | Up to 1,000 miles | 1,001+ miles |
| Case of 6 | $15.00 | $20.00 |
| Case of 12 | $20.00 | $30.00 |
Note: Any individual shipments over 50 lbs will have a $24 surcharge from FedEx that will be billed back to the Maker.
Step 1: Agreement
To be eligible for LibShip, the shipper must have an Alcohol Shipping Agreement with FedEx. Learn more on how to do that with FedEx Alcohol Requirements and LibShip: How to set up an Alcohol Shipping Agreement.
Once you have a FedEx Shipping License, sign into LibDib and add this info to your profile under "Compliance".
Note on residential addresses
If you have a residential address for your business, please contact FedEx directly. They require an explication to show that your product is shipping from a different address than the one listed on the license. To get approved, this must be completed before you submit your application.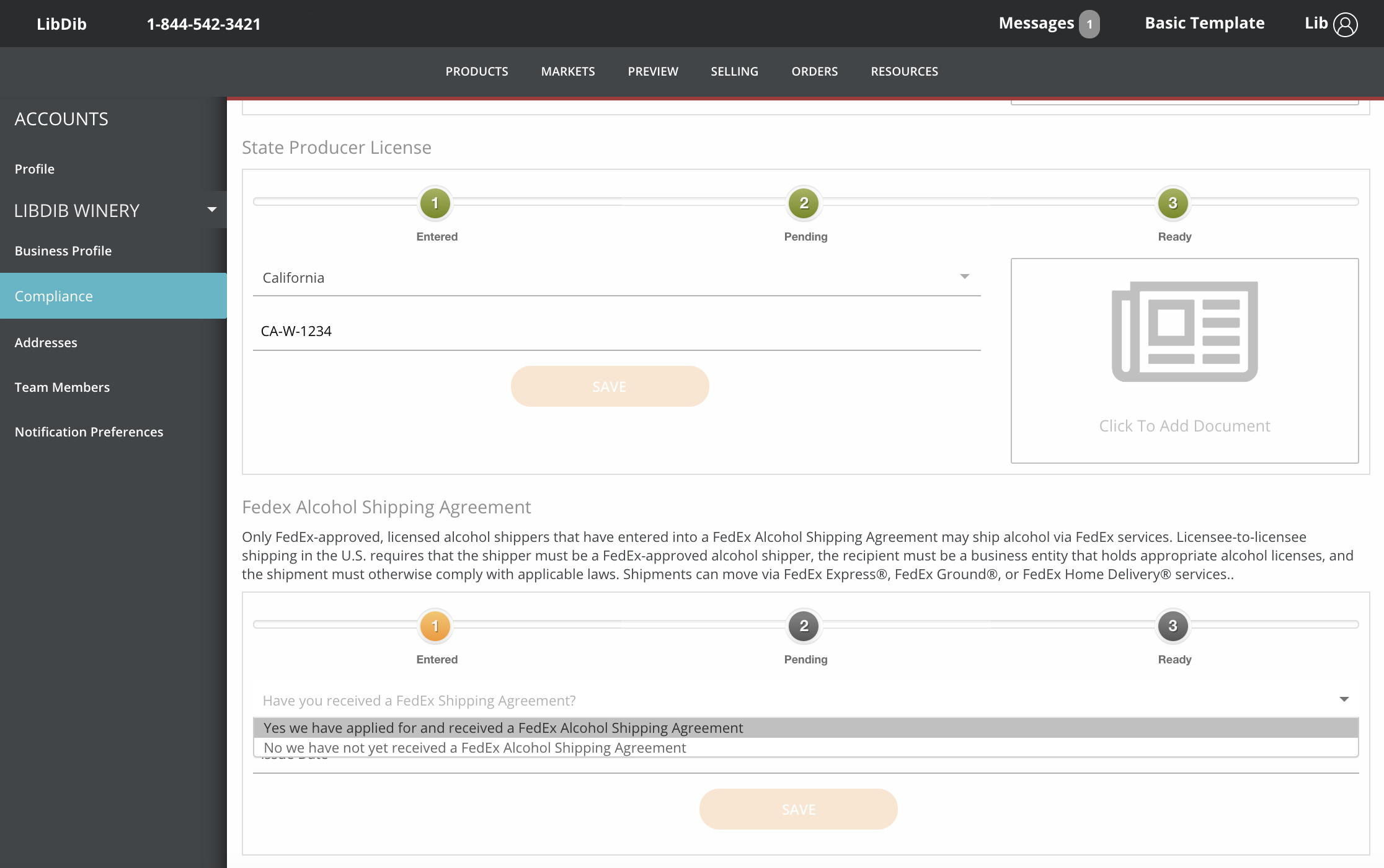 Step 2: Receive an order
Once you receive an order, LibDib will send the standard FFO email. Additionally, the LibDib Orders Team will call or email you for specific shipping info (number of labels, weight, etc.). We'll create the label(s) and email them to you. Dry ice can also be requested for the shipment at this time at no cost.
Step 3: Pack and label
Attach the prepaid label on the box, along with any other necessary LibDib documents (LibDib ID label, packing slip, invoice, etc.)
Step 4: Ship it!
As always, it's your responsibility to get your boxes to FedEx. You have a few options:
Find a drop off location here.
Add to your regularly scheduled pick ups with FedEx.
Schedule a pick up.
Please note that there is an additional fee for scheduling a pick up which will be charged back to you.
Step 5: Billing
LibDib bills Makers monthly for delivery, purchased labels, and any applicable pick up fees.
For more information about LibShip, call us at 844.542.3421 or email makers@libdib.com.