Ready to LibDib? This guide shows you how to add Brand information.
1. Add Brand Information
Content is divided under 3 tabs: Brand Information, Brand Media, and Collateral and Reviews.
Brand Information
Add or manage: Brand name(s), website and social media URL's
Brand Story: Share what makes your Brand unique. How did your company begin? What inspired you to create your Brand? Give us all the juicy details, our Buyers want to know the story behind your Brand.
Add keywords: Help Buyers find your Brand based on the characteristics they're looking for. Choose from our keywords — such as kosher, organic, and woman-owned — or enter your own. Think of all the words that might apply to your brand. (Product-specific keywords will be added in the next step). *When a buyer searches for one of these keywords, your Brand will come up.*

Brand URL: Makers have a dedicated LibDib Brand Page. Each of your Brands has a unique LibDib Brand URL that is customizable. For instance, if your Brand name is actually Southern Vodka but most Buyers know your product by the name VodkaRox, then you might want to change it to VodkaRox for quick and easy accessibility.
Share this link with Buyers to highlight your LibDib Brand Page. It makes it easy for Buyers to discover and purchase your products.
View your Brand Page URL under the PRODUCTS tab then click on the Brand in the top left corner. *If you have multiple brands, you will have multiple Brand Page URLs and you can toggle between the brands by clicking on the white arrow.*
Note: Buyers will not be able to view pricing until they have logged in and been approved by LibDib as a licensed entity.
Brand Media
Click over to the next tab to begin adding brand-related images and videos. LibDib supports PNG, JPG, and GIF formats.
Logo Images: High-res images of your logo.
Brand Photos: Images that represent your winery or distillery. These include your tasting room, vineyards, stills, or your team. The photos added here will show up on your Brand Page for Buyers to see.
Videos: We get a lot of views on short videos. If you have one, showing your harvest, distillation, fermentation (or any other part of your process), those are great to include.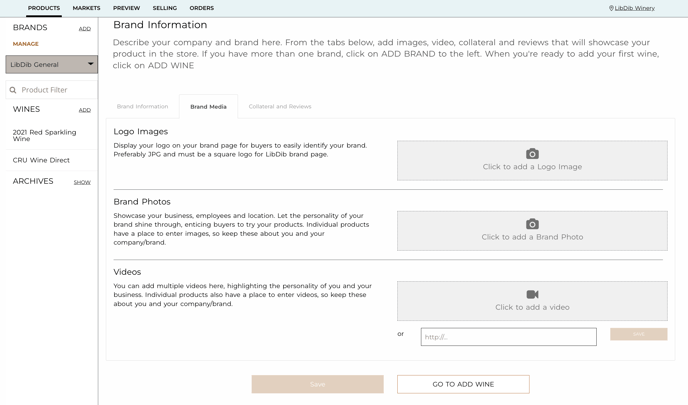 Collateral and Reviews
Collateral includes any downloadable sell sheets, PDFs of presentations, or sell sheets about the Brand.
Any digital media for the Brand including reviews, article mentions of the Brand, or its location can be listed under Reviews or Mentions.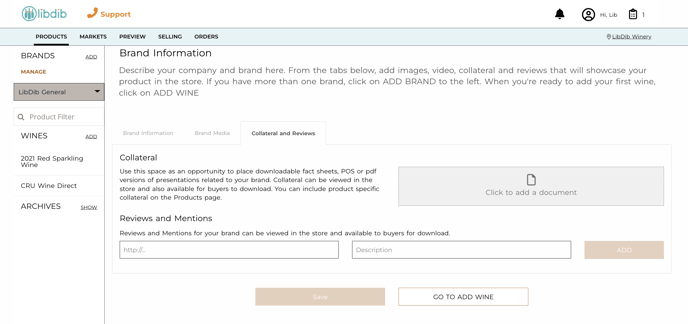 And that's it! Have you added your products yet? If not, view our guide here for some help.
If you have questions, email the LibDib Maker team at: Makers@libdib.com.