This guide breaks down some additional details to creating a LibDib account and best practices when setting up your profile. It's broken into 3 sections: Account Creation, Adding Brands and Adding Products.
Ready to LibDib? This guide shows you how to create a LibDib account, add brand information and add products.
What you need
Federal TTB permit
Home state license
Product and brand information (images, content, collateral, POS)
An hour of time (give or take)
1. Create a LibDib Account
To create a LibDib account, go to LibDib.com. In the upper right hand corner, click "Sign Up".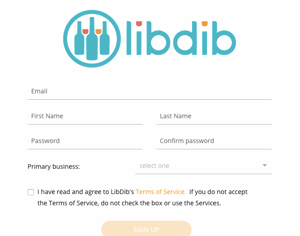 Enter your info:
Email
Name
Password
Primary business: Winery, Distillery, Importer, or Non-Alcoholic Maker
Agree to the Terms of Service
Add the winery or distillery address: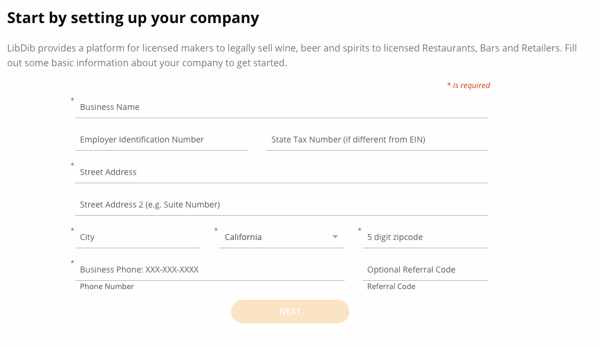 Add federal and home state licenses. You can skip this step for now, but you have to add them before you submit offerings.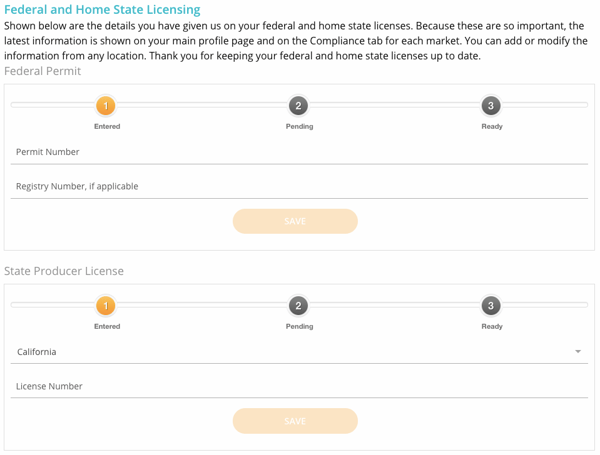 Next, it's time to create your Brand and Product pages.
Remember: This is what Buyers will see. Everything you add will build up their shopping experience with your brand. Be sure to make your products stand out from the crowd.
To get started, click on the Products tab at the top of your account.
2. Add Brand Information
Content is divided under 3 tabs: Brand Information, Photos and Videos, and Collateral and Reviews.
Brand Information
View (or change) your brand name, add a website URL, and connect social media profiles.
Share the brand story: What makes your brand unique? How did your company begin? What's the inspiration behind what you do? Give buyers something interesting to read, and get them excited.
Add keywords: Help buyers find your brand based on the characteristics they're looking for. Choose from our keywords — such as kosher, organic, and woman-owned — or enter your own. Think of all the words that might apply to your brand. (Product-specific keywords will be added in the next step).

Brand URL: Each of your brands has a unique LibDib brand URL, which you can customize. Share this link with Buyers to highlight your LibDib storefront, and to make it easy for them to find and purchase your products. LibDib-approved buyers can view your brand page, products, and pricing. Buyers that aren't yet LibDib-approved can view your page and products, but won't see pricing.
Photos and Videos
Click over to the next tab to begin adding brand-related images and videos. LibDib supports PNG, JPG, and GIF formats.
Logo images: High-res images of your logo.
Brand photos: Images that represent your winery or distillery. These include your tasting room, vineyards, stills, or your team. This is where Buyers can get a first impression of your brand and the people behind it.
Videos: We get a lot of views on short videos. If you have one showing your harvest, distillation, fermentation (or any other part of your process), those are other great to include.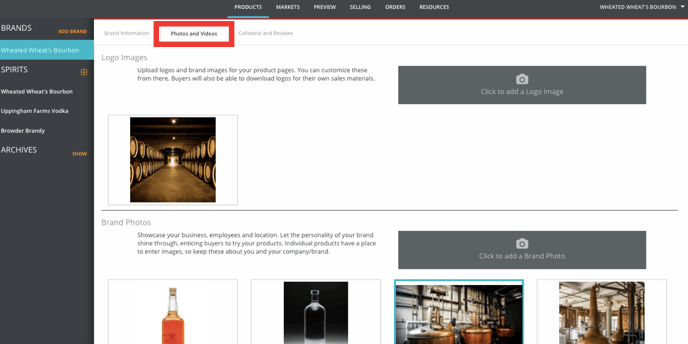 Collateral and Reviews
Collateral includes any downloadable sell sheets, PDFs of presentations, or sell sheets about the brand.
Any digital media for the brand including reviews, article mentions of the brand, or its location can be listed under Reviews or Mentions.
Buyers love to learn more about a brand! It helps them sell the brand to consumers by telling your story.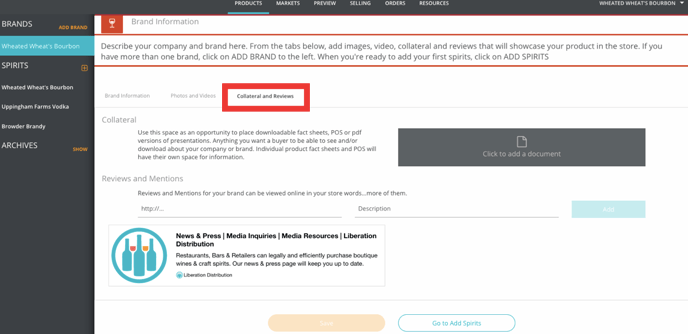 3. Adding Products
To add products, click "ADD" next to either "Spirits" or "Wines" on the left side of the page.
Then, fill out each section:
Spirits Information
Add basic info, such as: type of wine or spirit, style, age, proof, and region.
If you have more than one brand, select one from the drop-down menu on the second line.
Add any relevant characteristics: Allocated, Craft, Kosher, Organic
Add additional keywords under Description and Tasting Notes
PRO TIP: For bottle images, we recommend a high-res photo of the bottle against a white background. Make sure to add front and back label images — these are required for large account and big box stores! If you want to be considered for these types of accounts, add those images now.
Package & Case Size Information
Next, add packaging info. LibDib allows for multiple package sizes for each product (ex: 6-pack and 3-pack). We recommend no more than 2–3 sizes per offering, to keep things simple and easy for your buyers.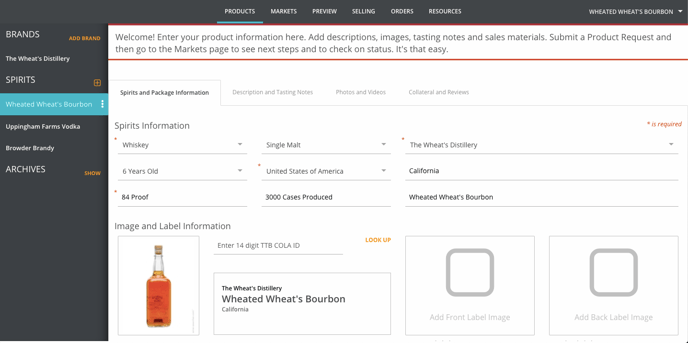 Description and Tastings Notes
Story: Add some character to your product. How is it made? What was the inspiration for it? Paint a picture with the most unique details of your product's story.
Recipe/Approach: Any serving suggestions, recipes, or food pairing ideas? Share them here.
Tasting Notes: Describe the taste and association.
Keywords: Similar to brand keywords, but more specific to this particular product.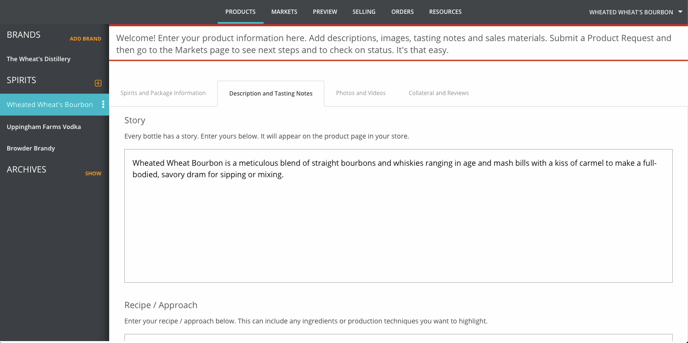 Photos and Videos
Add product-specific photos or videos here. High-resolution shots are always best to showcase the brand.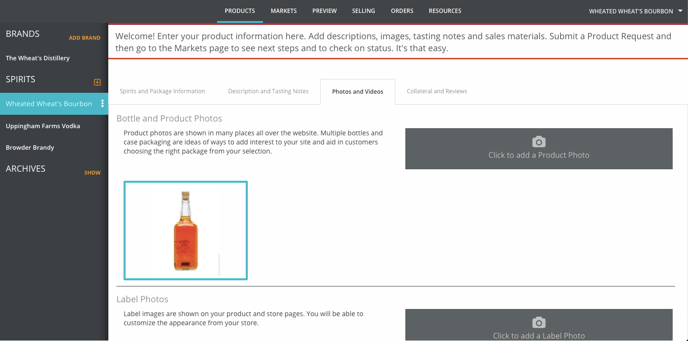 Collateral and Reviews
Collateral: Add product-specific sell sheets and presentations.
Mentions: Add digital reviews, media mentions and awards.
Not only is this a great way for Buyers to see the good things people have written about you, it's also a great place to store it all for your reference.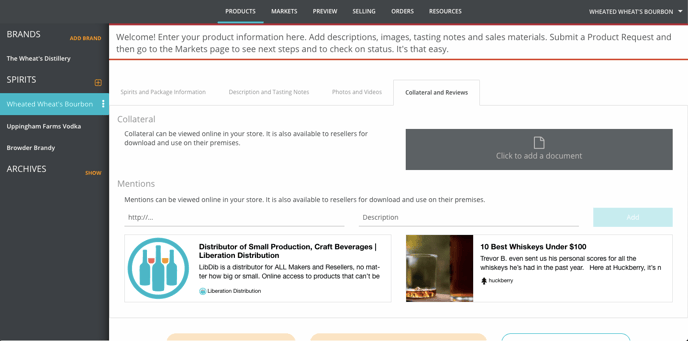 Click on "Preview" to see how Buyers will view your products in the store.
Click on a product card to view specific product information
Click on your brand to view your brand page.
And that's it! Have you priced your products yet? If not, view our guide here for some help.
If you have questions, email the LibDib Maker team at: Makers@libdib.com.