A complete guide to set up your brand, add products, upload compliance and go live in markets with LibDib.
LibDib makes it easy to gain distribution in new markets, connect with Buyers, and expand your business. All online. All on your terms.
This handy guide will walk you through the entire Maker onboarding process.
Section 1: SIGN UP
Create a new account
Head to LibDib.com and click the SIGN UP button.
On the next screen, enter your basic information, agree to the Terms of Service, and click SIGN UP.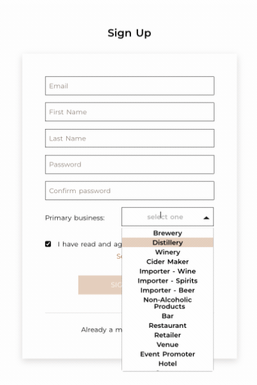 Set up your business
Fill in a few basic details about your company.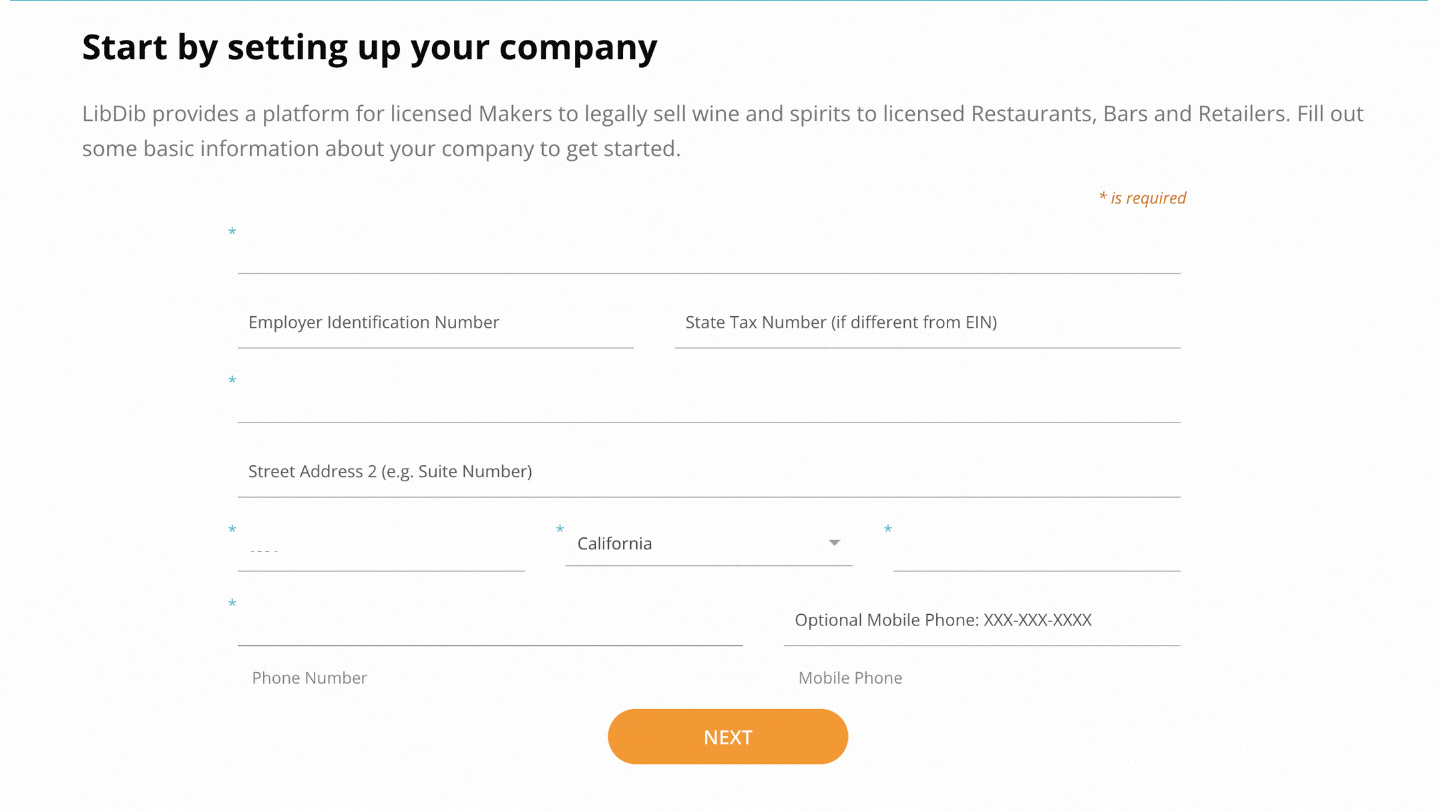 Add licenses and FedEx Shipping License
Fill in your license information, then upload your licenses for our team to review and approve.
In order to ship alcohol via LibShip you need:
An active FedEx account

An Alcohol Shipping Agreement on file with FedEx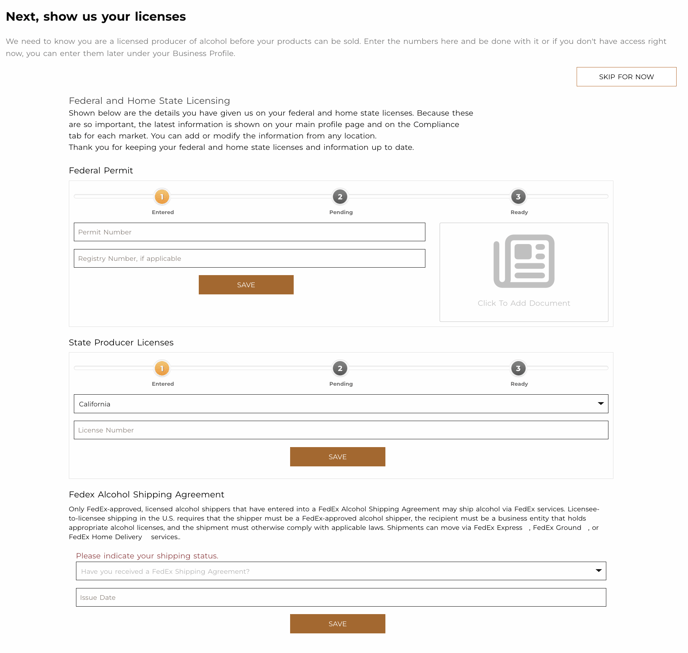 For more details, visit our Help Center here.
Choose your Maker benefit level
LibDib is pleased to announce our Gold and Silver plans for Makers that are interested in standing out on LibDib and selling into specialty accounts. Click here for more information including features and pricing.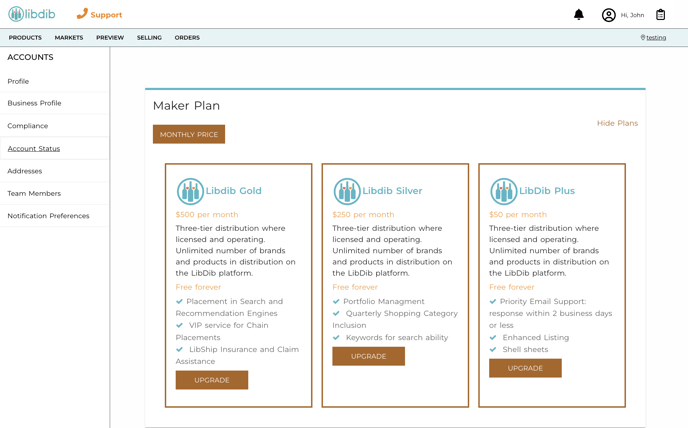 ---
Section 2: PRODUCTS
Brands
The Brand Page is a place to show off your brand and share your story. Click the PRODUCTS tab to begin. Next, go to each sub-tab to add:
Brand Information
Brand Media
Collateral and Reviews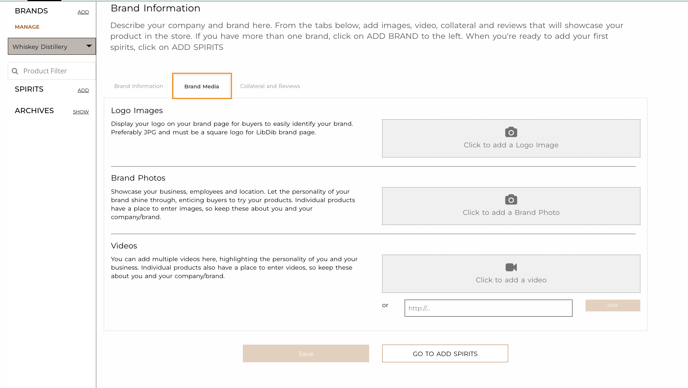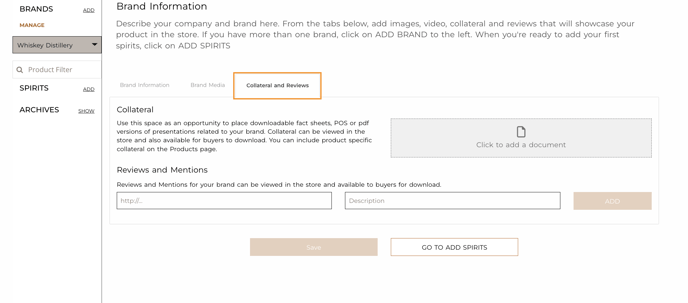 Add product(s)
Now that you've set up your business, it's time to add products.
To add a new product:
In the left side panel menu, click ADD
Fill in product information
Click SAVE
Upload product Image and Label Information
Fill in Package Information (add as many packages as you'd like)
Click SAVE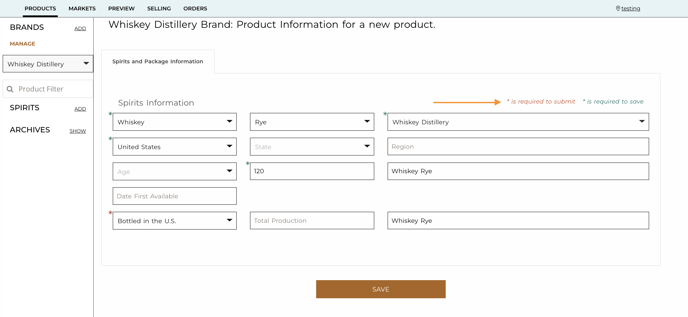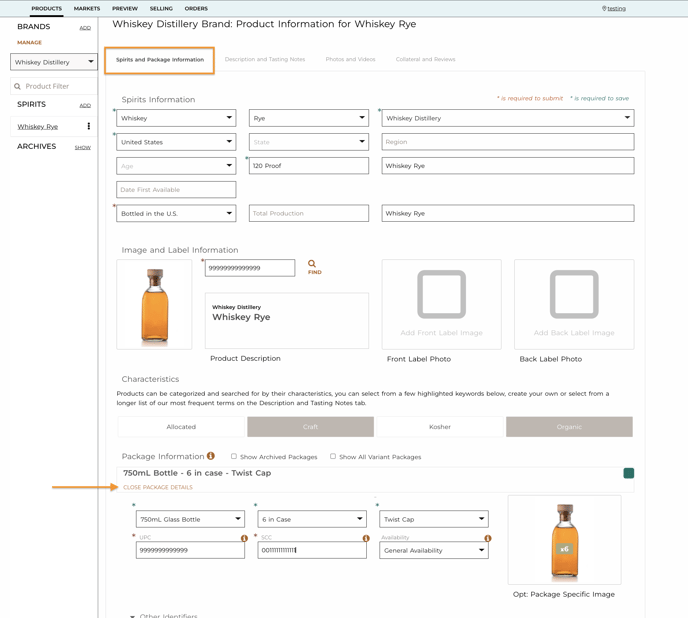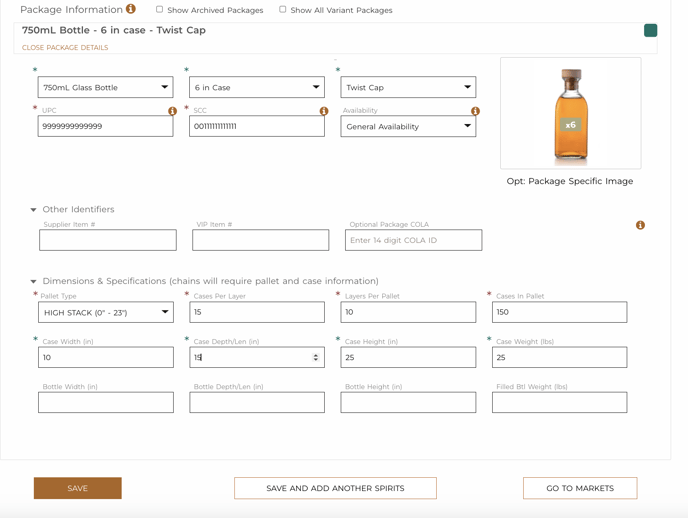 Next, go to each sub-tab to add:
Description and Tasting Notes
Photos and Videos
Collateral and Reviews
Repeat this process for each of your products. Once completed, all products will appear in the left side panel menu.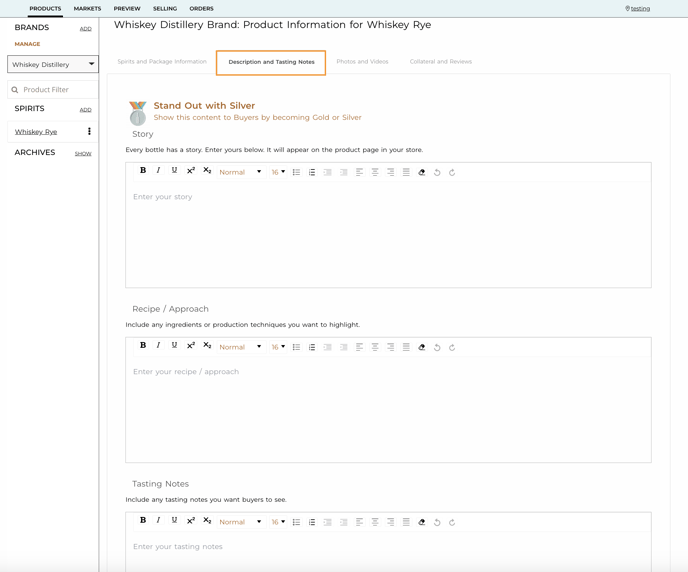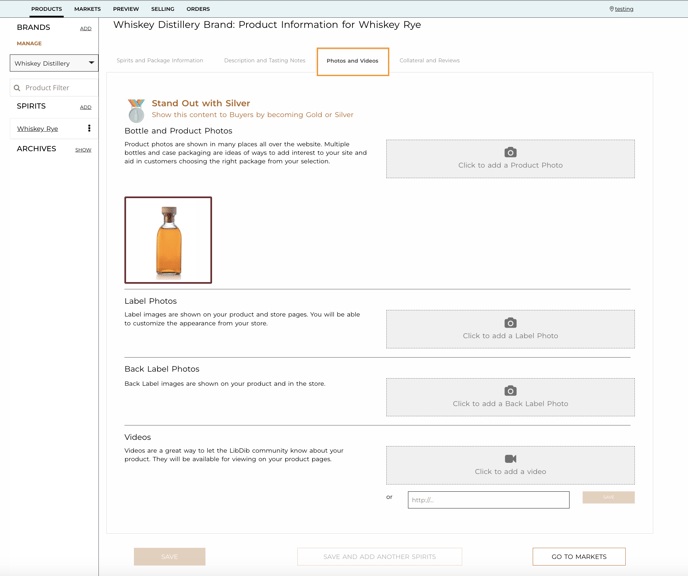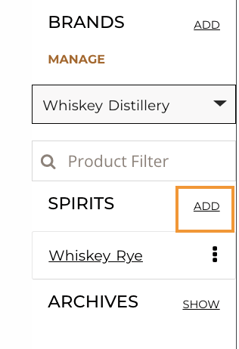 ---
Section 3: MARKETS
Markets
Head to the MARKETS tab in the top menu bar to finish up.
In the left side panel menu select a Market.
Review and agree to the Market Agreement
Enter Home State Licensing and Federal Permits
Enter any Additional Market Specific Permits
FedEx Alcohol Shipping Agreement
Review State information and Requirements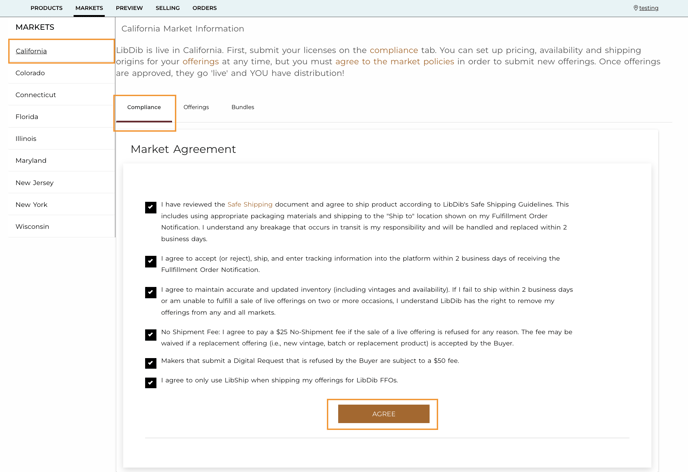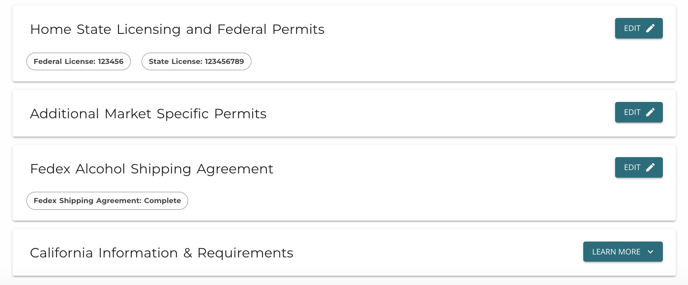 Offerings
Here you can select and price your products for each market.
Next, select a product
Click on "Show panel to Enter, Edit, and Submit State Details." This will expand the product so you can:
Set Availability
Shipping Origin
Pricing for the product in the currently selected market
Add Tiered Discounts
Save and Submit for approval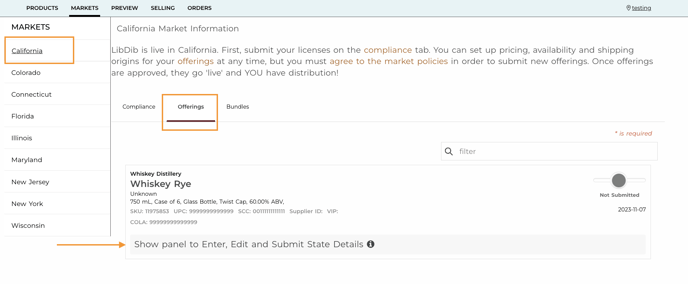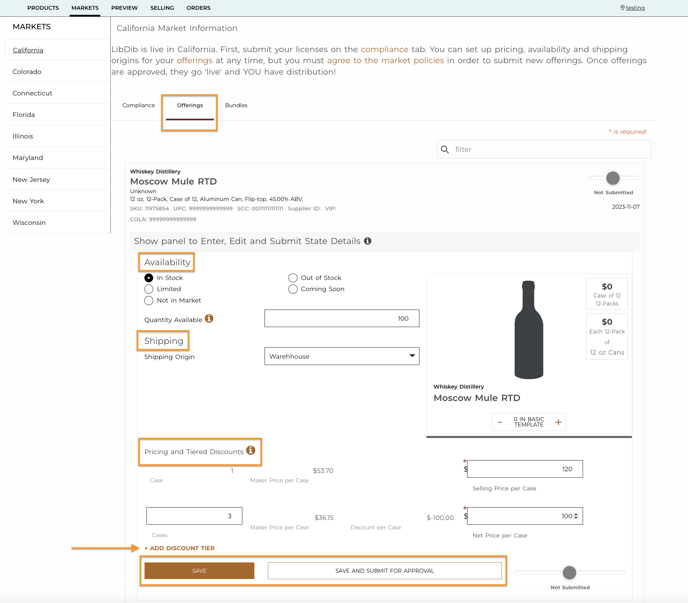 Repeat these steps in each state you would like distribution in.
Need help with pricing? Check out the Maker Pricing Guide.
Bundles
Makers can select multiple offerings within the same price tier to build bundles for Buyers. Buyers then have the option to pick from the bundled offerings and add to cart.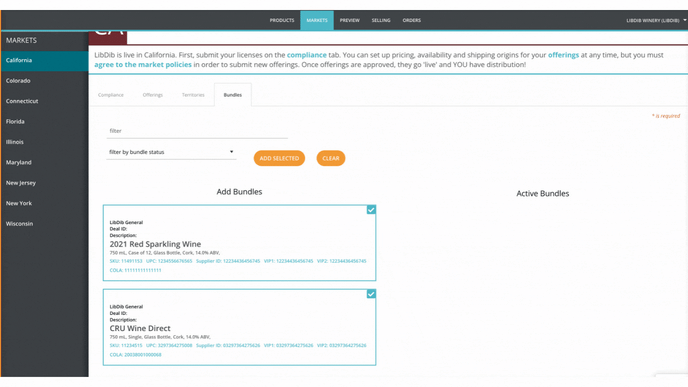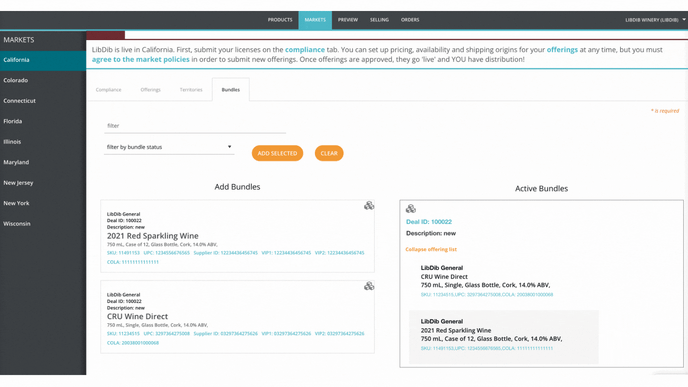 ---
Section 4: PREVIEW
After you add your offerings, you can click the PREVIEW tab in the top menu bar to see how products will appear to Buyers in the Shop.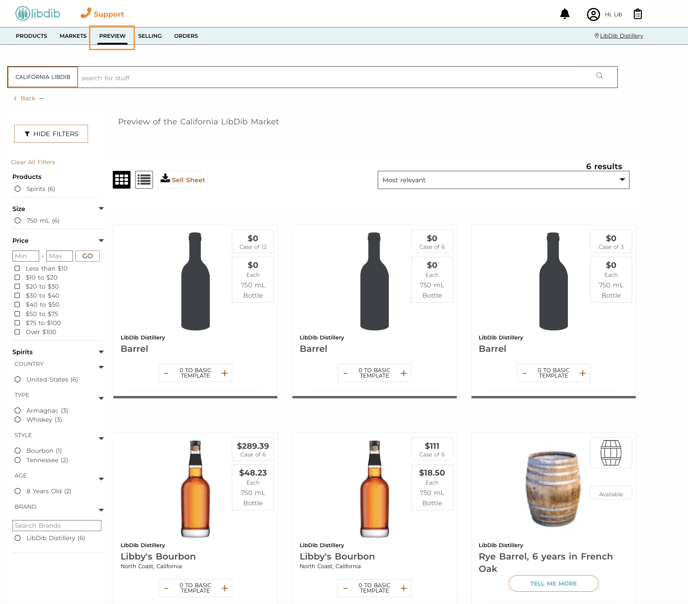 Section 5: SELLING
Digital Request Templates
Select a market
Create Digital Request templates to make future order requests even easier
Add new items to your templates
Download Sell Sheets
Send template lists to team members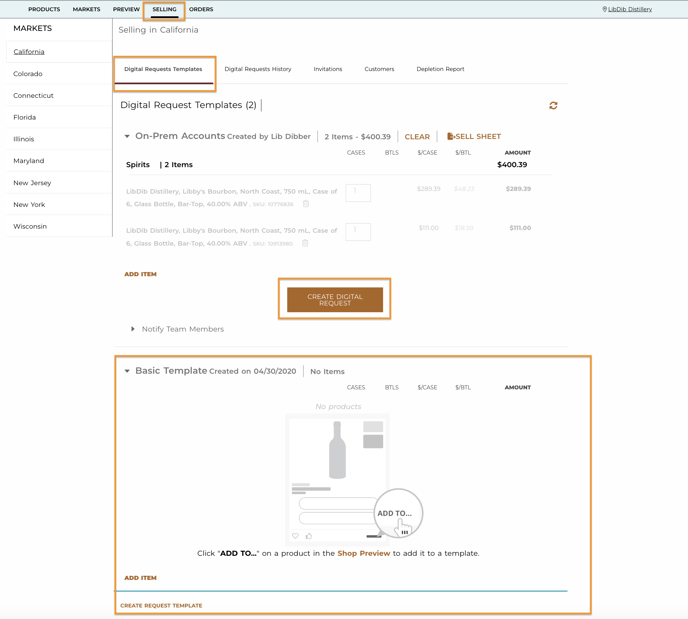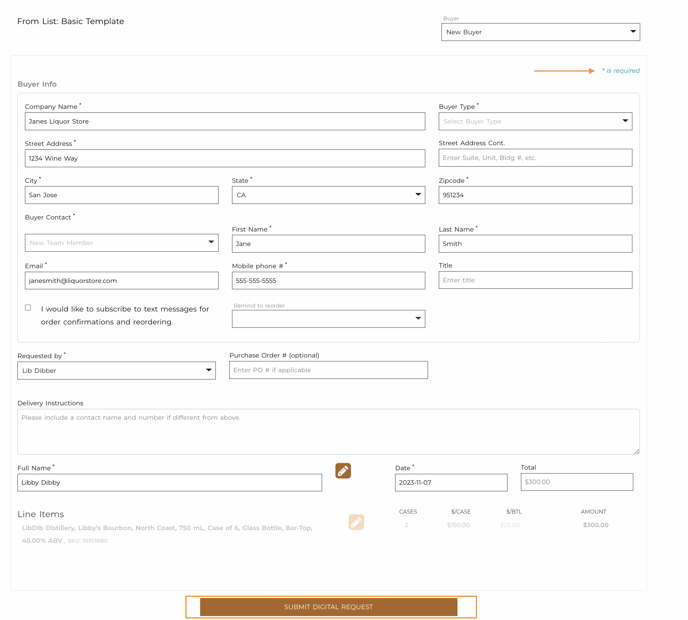 Digital Request History
Here you can see Digital Requests that you have submitted and their status.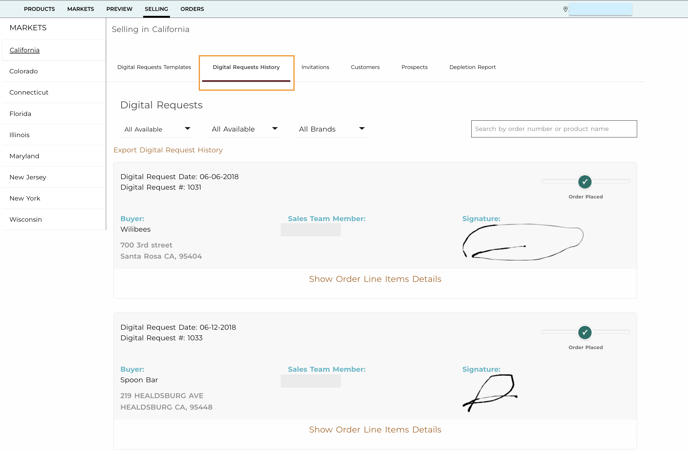 Invitations
You can send invitations to new and current Buyers to view and purchase your products from LibDib's Shop.
Note: Not applicable in LibDib@RNDC markets.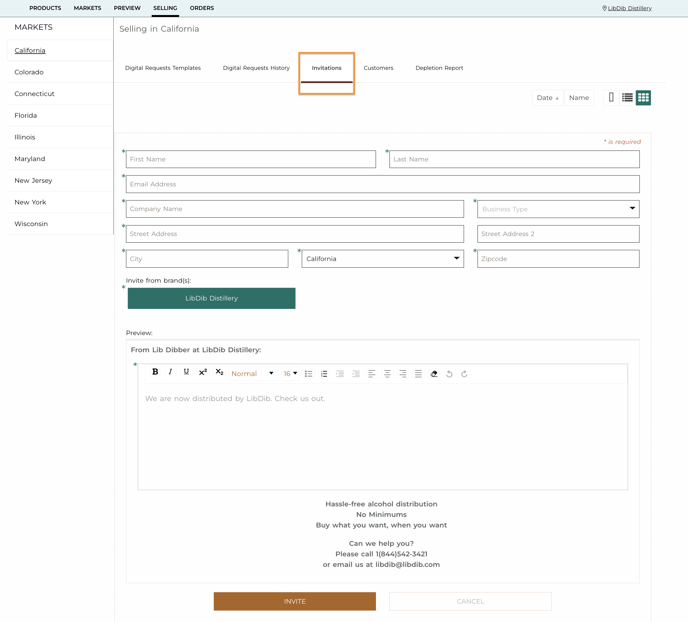 Customers
Here is where you can view Buyers who have previously purchased your products.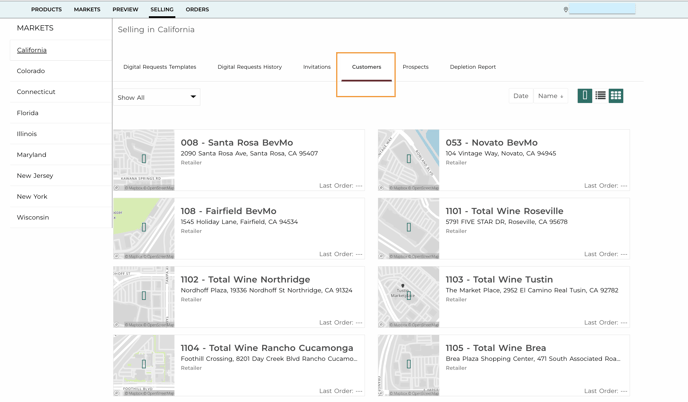 Depletion Reports
Instantly access your depletion reports anytime, anywhere.

Section 6: ORDERS
View your orders
Fill out shipment information per order
Create and Download LibShip labels
Download Buyer Invoices
Download Warehouse In-Tags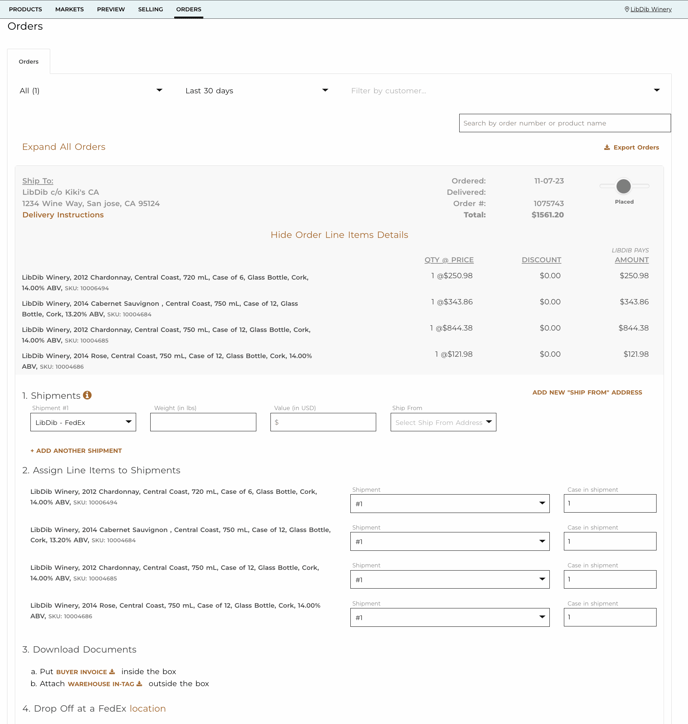 Section 7: Profile
Hover over your name in the top right hand corner and click on "Profile." From here, you can:
Add/update addresses: Your Primary, Billing, and Shipping addresses will all default to the address you provided during onboarding. Come here to update, change, or register additional addresses.
Add a team member: Set the role for your team members to Administrator, Fulfillment, or Staff. A person with Staff status will not be able to change pricing on products, but has access to everything else.
Update notification preferences: Choose who receives which notifications, and how they are notified. By default, team members will receive email notifications, but you can also receive updates via text.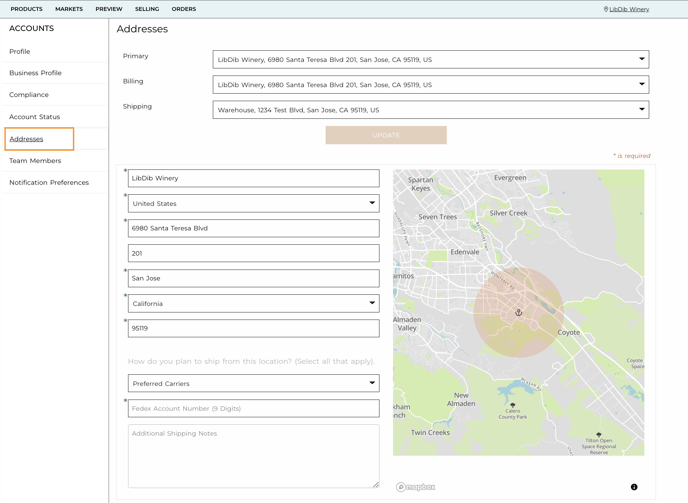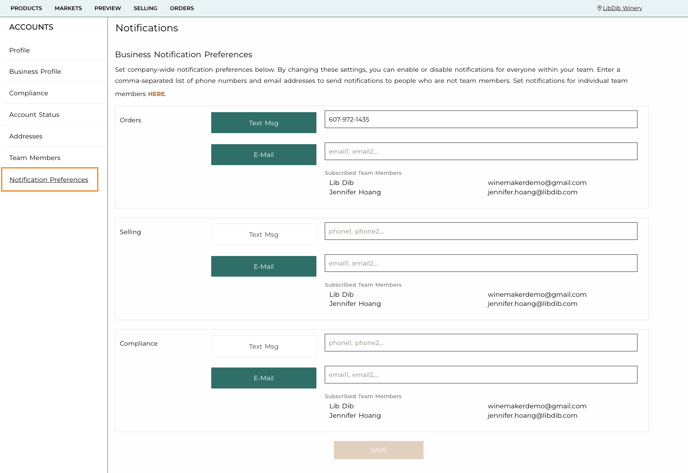 Recommended Maker Checklist:
Want to put your best foot forward with Buyers?
This checklist has the most important details Buyers look for on LibDib. Make sure you've got these points covered, and you'll be good to go.
Download a handy PDF of the checklist here.
And there you have it! You've successfully on-boarded and created your LibDib account.
Still have questions? Reach out to us at makers@libdib.com