Are you planning a visit into a specific market? We can provide you with some prospects using our "Matches" Digital Tool.
Here's what you need to do:
Invite at least 5 accounts that you would like sell your products into.
Reach out to LibDib's Maker Support Team at makers@libdib.com.

Tell the LibDib team what state and area or city you are visiting.
Tell the LibDib team when you will be there.
What type of accounts would you like matches for (ie On-Premise, Off-Premise, etc).
Once your matches are created they will be available in the "SELLING" tab under the "PROSPECTS". Let us know what your follow up plan is by filling in the "Next Steps" questions for each prospect.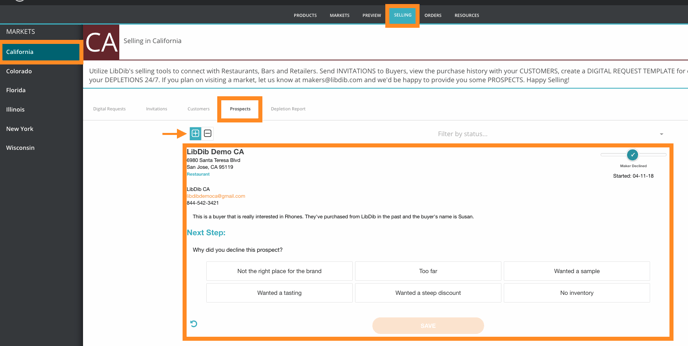 Can I have a list of your Buyers? How can I connect with them?
We do not provide a list of our Buyer accounts. Why? We want to respect the privacy of our Buyers information. We take a more targeted approach when connecting Buyers and Makers. We recommend inviting Buyers through the "Invitations" Digital Tool and/or reaching out to makers@libdib.com for prospects via "Matches".