Welcome to Distribution Reimagined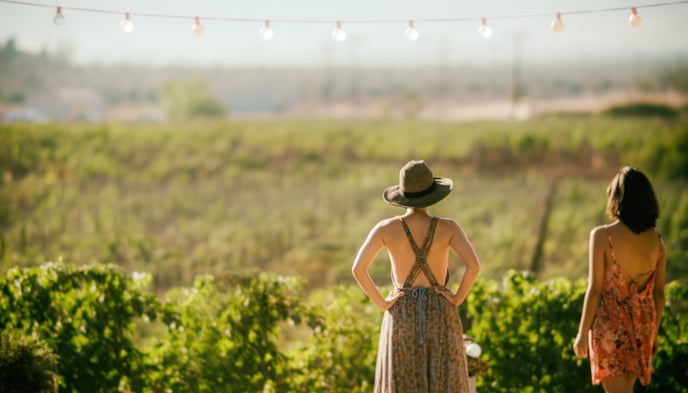 LibDib has created a whole new way to navigate the Three-Tier System. LibDib is a licensed Three-Tier compliant distributor (just like our partner RNDC). Our technology allows Makers to drive growth. LibDib handles the back end payment process and logistics assistance.
Get ready to enjoy easy orders, new compliant distribution options and better margins. All in one straightforward, good-lookin' online marketplace.
It's easy. Seriously painless. It's so straightforward, it's kind of ridiculous. We call it Distribution Reimagined. And we think you're gonna like it.
Instead of trucks and warehouses, we use the power of the internet, our distributor license, and creative shipping solutions to help us get stuff where it needs to go. We specialize in emerging brand distribution, and work with hundreds of suppliers.
This guide covers the basics of how LibDib works. Once you're signed up, there are a ton of other resources waiting for you.
Let's get started.
Why LibDib?
Get to market fast.
Distribution used to be tough to navigate. But today you can LibDib for fast and easy distribution.
Who's eligible?
Any licensed producer or importer of wine and spirits can be a LibDib Maker. We also have a category for non-alcoholic products.
LibDibbers are Makers who:
Launch products
Innovate/incubate new brands
Access new markets
Save on margins
Own account relationships
Fill distribution gaps
Get distribution fast
Stop "Self-Dibbing"
Have more time to sell
Expand to new markets
Get to market quickly
Access the top U.S. markets
Expand your On and Off Premise business
You're a LibDibber if...
You need to incubate new products or open new markets, but have limited resources (or few "feet on the street").
You want to test smaller brands, products, or tasting-room-only offerings
You'd like easy access to new markets
You want to build on the business you already have
You insist on transparency and control over your distribution placements
You're looking to distribute a product for the first time
You've been "Self-Dibbing" — You know it's tough and you're ready for a change
A distributor ghosted you or dropped your brand, and you need to fill the gap immediately
Are you ready to LibDib?
Getting Started by Onboarding:
1. Join LibDib
Provide compliance information by uploading state and federal TTB licenses
Agree to shipping terms
Add Brand and product information
Add brand(s)

Add product(s)

Choose markets
Price products in each market
2. Go Live
Follow the steps to Go Live in each market
Invite Buyers to shop online
Sell virtually or in person
Use digital tools to process orders and engage with customers
3. Fulfill
Receive order alerts
Follow shipping instructions
Ship within 2 business days
4. Build relationships
Connect directly
Expand points of distribution
Develop relationships
Onboarding starts the moment you sign up and most Makers finish setting up their products in 20 minutes or less. There's no contract needed, no approval process to get started and no long-term commitment.
Entering products and creating a seamless shopping experience for your Buyers is easy with LIbDib templates. Just upload your information and images. Pricing is a straightforward calculation based on the desired wholesale price and shipping costs. While time to market varies based on each state's requirements, in some states it can be immediate. Visit our How to Go Live in Each Market section for more details.
LibDib's Order Process
When an order is received
Makers are notified via email, text, or platform notification (you choose or utilize them all!)
LibDib sends the P.O. and a standard FFO email
Makers click through to the Orders Tab on LibDib and are prompted to download the shipping label
Makers attach the prepaid label to the box and ship the package via LibShip
Payment terms begin once the product has shipped
There you have it, that's how you LibDib! For more shipping details go to our LibShip page
LibDib's Digital Tools
Empower your distribution via LibDib's digital tool kit.
LibShip
LibDib's preferred FedEx account that provides you with discounted shipping rates. You can download your LibShip labels straight from your Orders page.
Digital Request
Submit a Digital Request letting LibDib know of Buyer interest wherever, whenever.
Depletion Reports
Get immediate and detailed insights into sales data.
Customer Lists
Keep track of and communicate with Buyers.
Nitty Gritty Details
Pricing
Pricing is one of the most important considerations when entering any market. In general, the selling price is the traditional "FOB" price, plus LibDib's markup, and the dock and delivery fees (where applicable).
With LibDib's lower markup and cost-effective shipping options, Makers find they can make more money with LibDib's distribution model.
For more pricing information read our Maker Pricing Guide.
Selling
Reimagining distribution means thinking outside the box.
Instead of typical in-person distributor sales reps, LibDib Makers own their relationships and drive growth. Buyers want to hear your authentic story directly from you!
LibDib empowers Makers by assisting with many sales rep functionalities — and it's all done digitally, with our top-notch tech.
If you're working the market and receive interest from a Buyer, just send a Digital Request to LibDib right there.
If you have a Buyer you want to invite to LibDib, send them an invite via the digital tools or place a Digital Request letting LibDib know of the Buyers interest and we'll do the work to get them up and running.
Buyers get to know your products. They can curate, make lists, and connect with you directly. Reorders are simple. Depletion and reporting functions are intuitive and hassle-free.
Margins and Fees
There's no cost to list products with LibDib, and we don't charge minimums. In fact, we only get paid if something sells. Our pricing is different from most distributors and we recently improved our model to make it easier for Makers to set a Buyer price. The cost of doing business on LibDib is now clear and consistent in all markets - LibDib earns 14% markup on the Net Sales Cost.
Makers are responsible for the cost of shipping. Typically, Makers include this in their 'Maker Price'. Our in-house shipping program, LibShip, makes shipping cost-effective, even for long distance packages. For more information go here.
In certain markets, a "dock and delivery fee" will be added to the Buyer Price. This fee covers the "last mile of delivery" where applicable, and varies by market and product. Fees by state can be found under the MARKETS tab in LibDib.
Taxes
LibDib calculates the tax based on product type, gallonage and ABV. This varies by market including who pays the taxes in each state. Typically it's LibDib but in some cases (like WI) it falls on the Makers. Taxes will depend on the markets you are in. Current information can be found inside LibDib, and we recommend Makers consult their compliance experts.
Payments
LibDib pays Makers 60 days from the time of shipment. The sooner your product ships out, the sooner you get paid! LibDib invoices Buyers, and terms vary in accordance to regulations by market.
Our Makers are paid with Bill.com, a third party service. Simply set up a free account and enter banking information to get paid via ACH or check.
For more information on fees, taxes, and payments go here.
Orders
Buyers can sign up and purchase around the clock, thanks to LibDib's e-commerce experience.
Makers can submit Digital Request letting LibDib know of the Buyers interest anytime, anywhere, on any device via:
Online (Digital Request)
Email
Text
Phone
We also take orders from Buyers via PO or EDI.
For more details visit our shipping page.
Shipping
It is a requirement that Makers ship all orders via LibShip, our flat rate shipping program that saves both time and money. LibDib has partnered with FedEx to offer simplified pricing, automated tracking and enhanced features.
LibShip is a key component to successful LibDibbing, allowing the LibDib operations team to carefully track orders, warehouse deliveries and customer shipments. It is also the only way for Makers to ship compliantly to customers in Florida and New York. The great news is that Makers report an average savings of 50% compared to standard FedEx rates (win, win!)
How does LibShip work? Simple and quick: Once an order is received, LibDib sends Makers a standard FFO email. Makers click through to the Orders Tab on LibDib and are prompted to download the LibShip label(s). Makers print and attach the prepaid label to the box, along with any other necessary LibDib documents (LibDib ID label, warehouse in tag, packing slip, invoice, etc.). The order is ready to be shipped. LibDib bills Makers monthly for delivery, purchased labels, and any applicable pick up fees.
For more information go here.
Pallets & LTL Loads
LibFreight and payment responsibilities for pallets can vary by state. Here's a quick breakdown of how it works in each market.
In at-rest markets: Makers can use any freight option to deliver pallets to LibDib's warehouse. Makers pay for shipping from their warehouse to ours, and LibDib pays for the final delivery to retail.
In non-at rest markets: LibFreight controlled freight is mandatory to ship to retailers. There is no flat rate. LibDib will secure a price quote once an order is placed. Makers will be billed for the freight from LibDib.
Warehousing
LibDib doesn't work like a traditional distributor. We don't purchase pallets, store them in warehouses, or deliver them on trucks. Instead, LibDib purchases products from Makers (often "one-case-at-a-time"), and Makers ship directly from their facility on behalf of LibDib.
Still, some Makers are interested in storing product at a warehouse — and LibDib has a strong network of partner warehouses, so you can use LibDib's contacts and form your own relationships. The process will be slightly different depending on the provider. For the most up to date cost on warehousing rates and storage fees, contact the warehouse directly. If you have questions, reach out to our team directly at: makers@libdib.com
Markets
Makers can enter any market where LibDib is licensed to distribute alcohol. The route to market and time to set up distribution varies by state.
Here's a general idea of the current path to market in each state.
Download our Go Live Guides for wine and spirits in each state.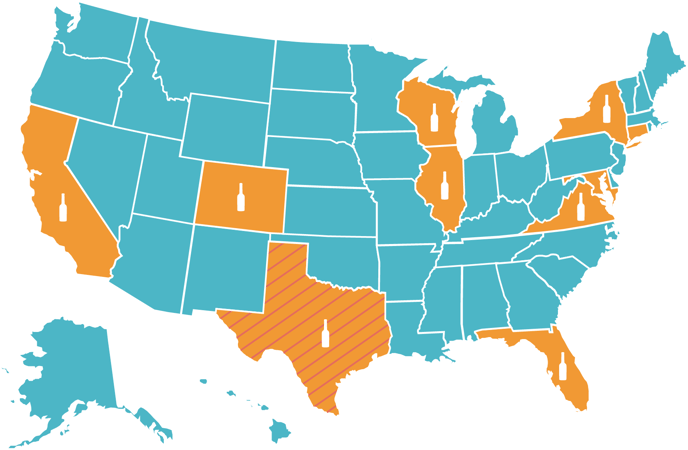 California
Est. time to market: Immediate for wine, 2 months or less for spirits.
Compliance: None needed for wine. Type 28 license required for spirits.
Colorado
Est. time to market: 2 months or less for both wine and spirits.
Compliance: Importer's license, work with an importer, or become your own importer. Products must be registered prior to shipping into Colorado using Product Registration Online: productregistrationonline.com
Connecticut
Est. time to market: About 45 days.
Compliance: Must have an Connecticut Home State License or secure a Out-of-State Shipper's Permit for Alcoholic Liquor or Out-of-State Shipper's Permit for Wine.
Est. time to market: 1–2 days.
Compliance: Register your products online with Florida ABT.
Illinois
Est. time to market: 60 days or less.
Compliance: Must have an Illinois Home State License or secure a Non-Resident Dealer's License, register each product for sale, and appoint LibDib as the distributor.
Maryland
Est. time to market: About 45 days.
Compliance: Must have an Maryland Home State License or secure a Non-Resident Dealer's Permit
New York
Est. time to market: 60 days or less.
Compliance: Price posting and brand registration.
Wisconsin
Est. time to market: Quickly!
Compliance: Out of State Permit required.
The Buyer Experience
Online Marketplace
It's free and easy for Buyers to sign up on LibDib.
Buyers can view LibDib's online book by signing up with basic information. There's no obligations or hidden fees.
LibDib is an online marketplace where Buyers can browse, order, and pay for products. Any licensed restaurant, bar, or retailer in our licensed states can purchase online. LibDib works with Makers to deliver products in a compliant manner.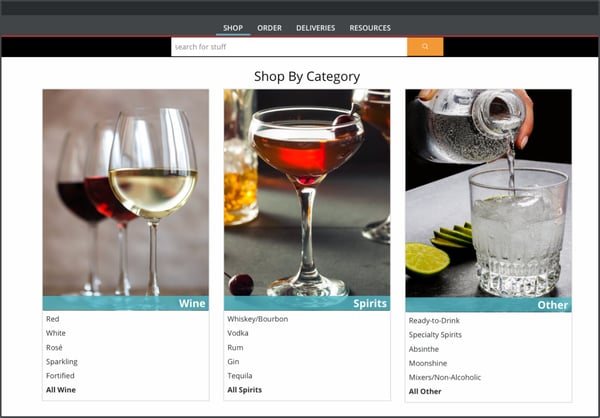 Navigation
Our online store is organized by product types. There are dozens of filters to assist in the discovery and purchasing process. Buyers can create favorites lists, and Makers can send reorder reminders. Buyers can also sign up for SMS order notifications to receive real time updates on orders.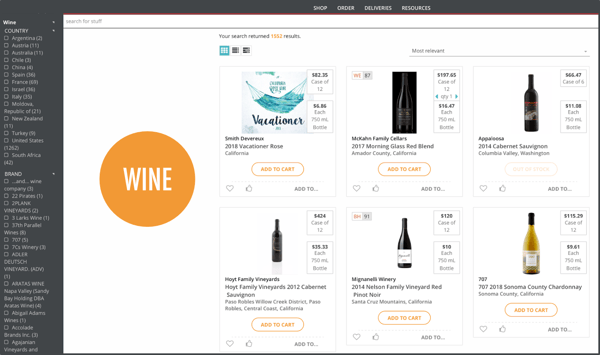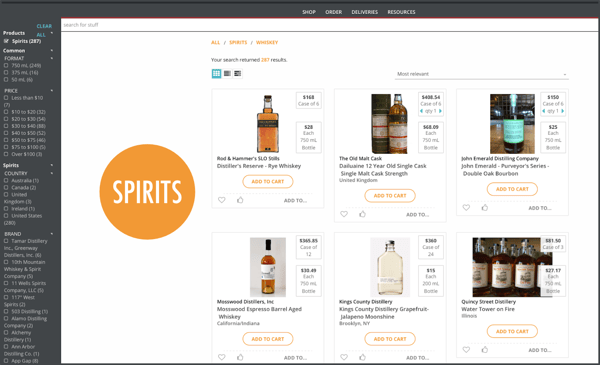 Cart
When Buyers are ready to purchase they navigate to their shopping cart and submit their order.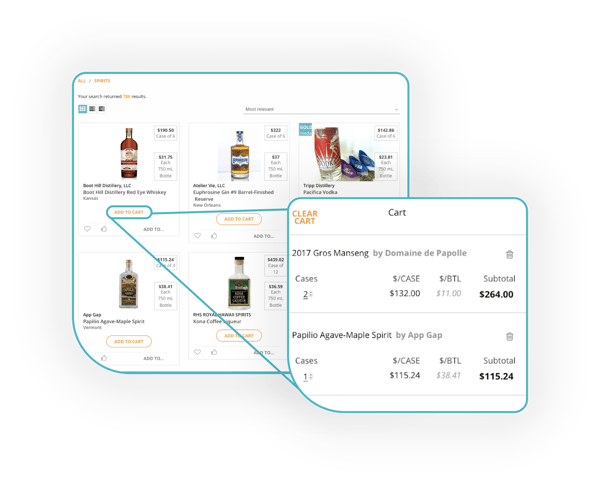 What Does the App Do?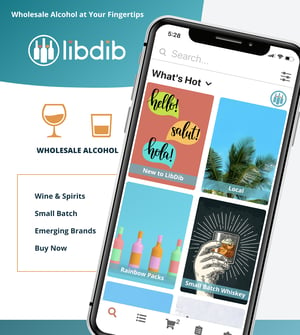 The app works just like LibDib's online store. Buyers add products to their shopping cart, check out, and receive their invoice.
It's like a digital rep in their pocket. Buyers can:
• Browse, reorder, and review order history
• Buy what they want, when they want
• Build lists to manage favorites, and plan purchases based on seasonal needs
• Set reorder reminders for 1-click restocking of fast movers
Who Can Use the App?
• LibDib Buyers can sign in or sign up and start shopping instantly.
• Makers currently cannot use the app, but can easily share it with Buyers.
• LibDib Mobile is currently on iOS. Android version coming soon.
LibDib Partners
Republic National Distributing Company
In 2019, LibDib joined forces with RNDC, the nation's second largest distributor. RNDC and LibDib share data and technology to provide Makers and Buyers with market access, selling tools, and powerful distribution offerings. | erndc.com
Connect with LibDib
Social Media
Questions? We've got your back.
Feel free to email us any time at makers@libdib.com or give us an old fashioned phone call at 844.542.3421