Adding Products
To add products, click "ADD" next to either "Spirits" or "Wines" on the left side of the page.
Then, fill out each section: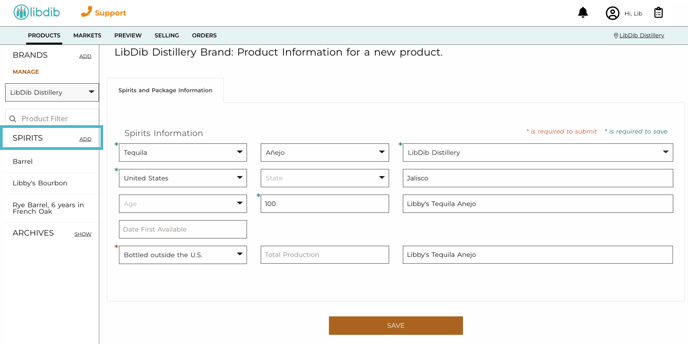 Spirits and Package Information
Spirit or Wine Information: Add basic info, such as: type of wine or spirit, style, age, proof, and region
Image and Label Information: Add bottle image, front and back label image and COLA
Characteristics: Add any relevant characteristics (keywords): Allocated, Craft, Kosher, Organic
LibDib allows for multiple package sizes for each product (ex: 6-pack and 3-pack). We recommend no more than 2–3 sizes per offering, to keep things simple and easy for your Buyers.
Package Information: Pack size, container information, any other package identifiers
Dimension and Specifications: Pallet information (required for chains)
PRO TIP: For bottle images, we recommend a high-res photo of the bottle against a white background. Make sure to add front and back label images — these are required for large account and big box stores! If you want to be considered for these types of accounts, add those images now.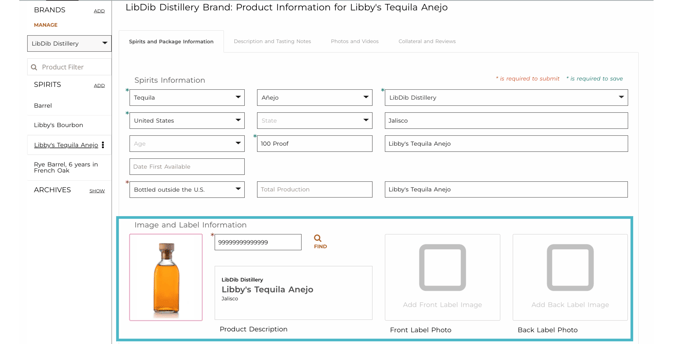 Description and Tastings Notes
Story: Add some character to your product. How is it made? What was the inspiration for it? Paint a picture with the most unique details of your product's story
Recipe/Approach: Any serving suggestions, recipes, or food pairing ideas? Share them here
Tasting Notes: Describe the taste and association
Aroma: Add aroma notes here if you'd like Buyers to see
Maker's Notes: Add a personal note here that you would like Buyers to see
Keywords: Similar to Brand keywords, but more specific to this particular product. Choose from provided keywords or type in your own.
*Use keywords to describe your products. When a buyer searches for one of these keywords, your product will come up. Organic, family-owned, vegan are just a few of the key word options*


Photos and Videos
Bottle and Product Photos: Add product-specific photos or videos here. High-resolution shots are always best to showcase the Brand
Label Photos: Add front images — these are required for large account and big box stores
Back Label Photos: Add back label images — these are required for large account and big box stores
Videos: Upload videos for LibDib Buyers to view on your product page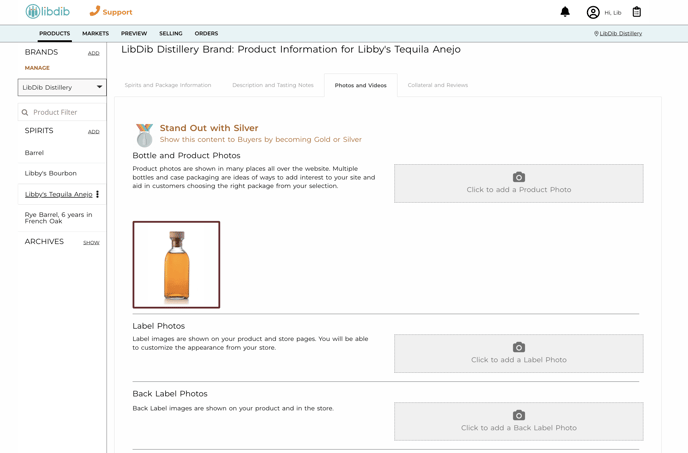 Collateral and Reviews
Collateral: Add product-specific sell sheets and presentations
Mentions: Add digital reviews, media mentions and awards
Not only is this a great way for Buyers to see the good things people have written about you, it's also a great place to store it all for your reference.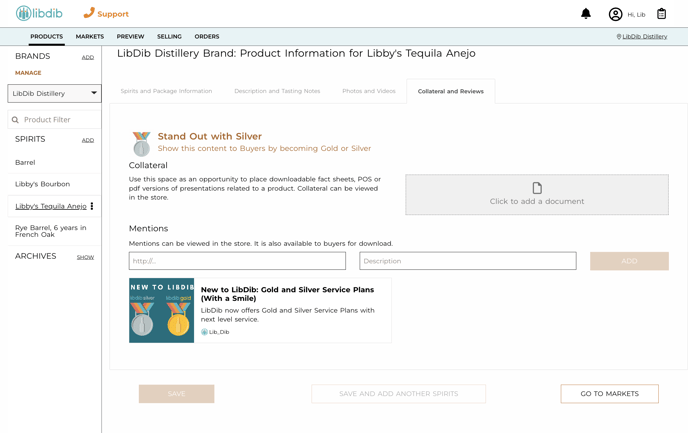 Click on "Preview" to see how Buyers will view your products in the store.
Click on a product card to view specific product information


And that's it! Have you priced your products yet? If not, view our guide here for some help.
If you have questions, email the LibDib Maker team at: makers@libdib.com