Signing up and adding products to is super simple. This guide walks you through the nitty gritty details to LibDibbing--from creating an account to selling.
What you need to get started:
Federal TTB permit
Home State license
Product and Brand information (images, content, collateral, POS)
An hour of time (give or take)
1. Sign up at LibDib.com
There's no contract to create an account, and no approval process to get started. Simply sign up and go. Speed to markets depends on compliance requirements in each market/state.
*ASE clients: click here for specific onboarding instructions.
*RNDC suppliers already have LibDib accounts and should contact RNDC..
2. Compliance
Makers are required to have a Federal TTB permit and a home state license to work with LibDib. Remember: Each market (state) you sell into might have its own additional compliance requirements. These vary by state. For more details visit our How to Go Live in Each Market section.
For state-specific compliance info, simply sign in to LibDib. Click on Markets, select a state, then click on Compliance. As an example, the Colorado compliance tab looks like this: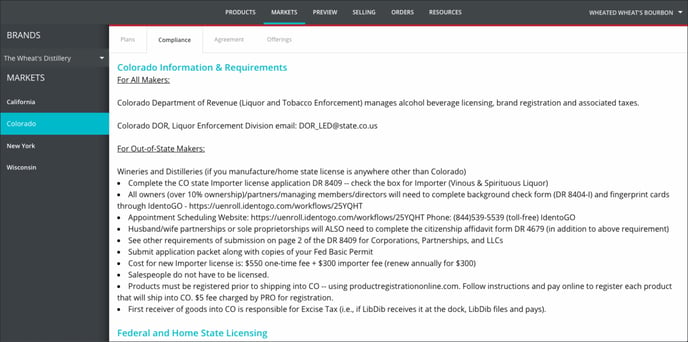 3. Add Brand and Product Information
The "Products" tab in LibDib is where you add brand info and product details. This includes:
The story behind your brand
Photos and videos
Media mentions
Tasting notes
Anything else to get buyers excited!
Everything you add will be a part of your unique brand offering and product pages. This is a chance to showcase your company and your products, so don't skip this step!
For a detailed, step-by-step tutorial click here.
Package sizes
To add package sizing for products:
Scroll down to the bottom of the "Spirits and Package Information" tab.
Click "Add Package" to select your container type, number of bottles per package and bottle closure.
Accurate case dimensions and pallet information will only be needed if the brand is being sold into chain accounts.
4. Markets, Availability, Quantity, and Maker Price
Tell us your plans for each market! This is required before you can submit new offerings.
Click on the "Markets" tab in LibDib.
Under "Agreement", agree to the market policies.
You may also need to enter additional market-specific compliance information.
Click on the "LibDib" tab to set specific availability, quantity, and pricing by market.
Where permissible, availability and pricing within specific territories of a market is open as well.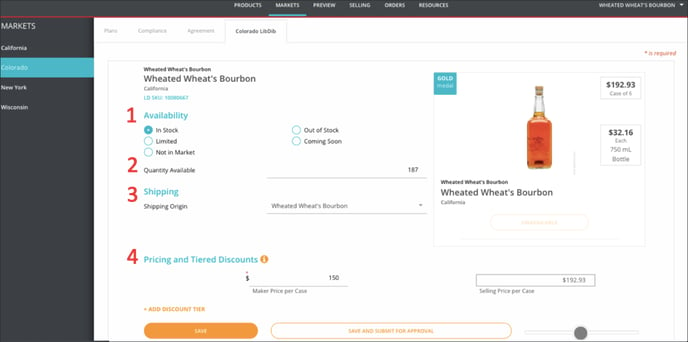 1: Availability
Tells you if a product is visible to buyers and available for purchase. For more info, click here.
2: Quantity Available
This number is internal and is not visible to buyers.
3: Shipping Origin
Where is the product shipping from? This defaults to the address you used when onboarding. To add another address (such as your warehouse), add the address under your profile.
4: Pricing Steps:
Enter your Maker Price: This is the price LibDib pays to the Maker. It typically includes the cost of the product and the cost of shipping to LibDib. Makers are responsible for the cost of shipping.
Selling Price: This is the wholesale price that restaurants, bars, and retailers pay LibDib. Once you enter the Maker Price, LibDib will set the Selling price, which includes LibDib's 15-20% margin and a "Dock & Delivery" fee per case.
Tiered Discounts: After you establish your Case 1 pricing, you can set up additional tiered pricing (varies by market). Common tiers include Case 3, Case 5, and Case 10 pricing.
Once you finalize your pricing, click "Submit for Approval" and that offering will be submitted to LibDib. When all compliance requirements are good to go, offerings will be approved and available for purchase. LibDib reviews and approves new offerings daily.
Remember: compliance varies by state, so offerings may become 'live' at different times.
*New York price changes: In New York, due to price posting, once your priced offering is approved by LibDib, you cannot immediately change the price. Email makers@libdib.com for price changes.
5. Preview your Brand Page
This is how Buyers see your products in LibDib. Click on a product card to see the info, photos, videos, and sales materials you've uploaded. For best practices on how to create an awesome brand page, click here.
6. Manage your Profile
Hover over your name in the top right hand corner and click on "Profile." From here, you can:
Add/update addresses: Your Primary, Billing, and Shipping addresses will all default to the address you provided during onboarding. Come here to update, change, or register additional addresses.
Add a team member: Set the role for your team members to Administrator, Fulfillment, or Staff. A person with Staff status will not be able to change pricing on products, but has access to everything else.
Update notification preferences: Choose who receives which notifications, and how they are notified. By default, team members will receive email notifications, but you can also receive updates via text.
And there you have it! You've successfully on-boarded and created your Libdib page. Welcome to Distribution Reimagined. Still have questions? Reach out to us at Makers@libdib.com.