Creating Bundles is a great way to offer more variety to your Buyers! Follow the steps below to get started.
Head to LibDib.com and click the SIGN IN button

Enter your Login information

Once you are logged in, click on the MARKETS Tab. Make sure you are in the correct Market on the left side panel. Then click on the Bundles Tab. All the Products that have Tier pricing will appear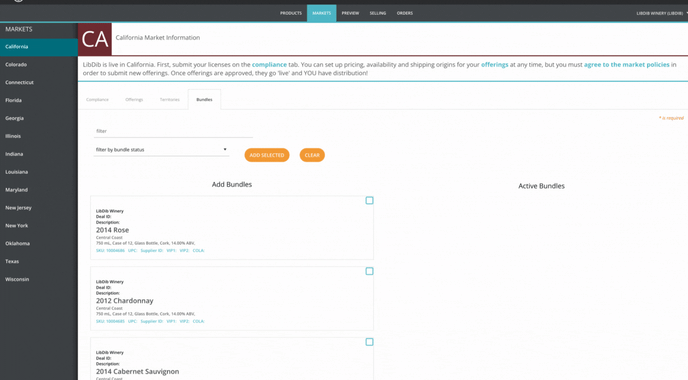 Bundles are built by Tier discount levels, meaning only products that have case quantity discounts set can be bundled together. Bundles are NOT built by price

Next, click on the blue box of the Product you would like to start a Bundle with. Below the selected Product, you will see all the available Products you can Bundle with it. You may click on as many as you'd like to be a part of that one Bundle. (Products that can not bundled with the first Product you selected will disappear automatically)

Once you have added all the Products you want to the Bundle, Click on Add Selected

NOTE: Once a Product has been selected for a Bundle, it cannot be used in another Bundle

Create a name for the Bundle and click Submit





Once the Bundle has been Submitted, the Bundle will fall under the Active Bundles section

If you want to delete the Bundle, hover your mouse over the top right corner of the box and an orange trash can will appear

To view the Items in the Bundle, click on Expand Offering List.

NOTE: If you add a Product to a Bundle that you no longer want in the Bundle, you will have to delete the whole Bundle and create a new one.

Once Products are in a Bundle, those Products will appear at the bottom of the page with the Bundle Builder Icon in place of the Blue Square, indicating you can no longer use that Product for a new Bundle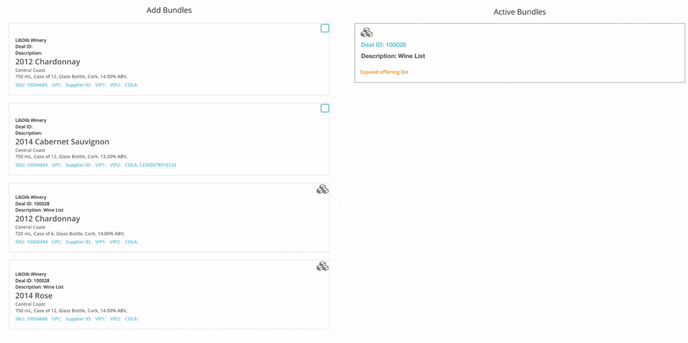 Here is a sneak peak of what your Bundles will look like to Buyers in the Shop. They will see the Bundle Icon on the Product Card. Buyers will now have the option to Build a Bundle.